The Balance of Nature and Science with Extraordinary Benefits!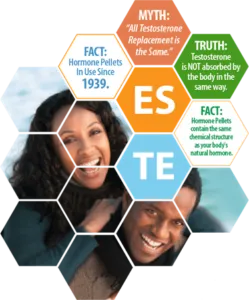 Balanced hormones are necessary for good health and disease prevention for women and men as we age. BioTE ® optimizes hormone levels with tiny pellets just under the skin.
Hormone pellets release all-natural bio-identical estrogen and testosterone and are absorbed consistently into the body as needed.
Take Our Hormone Wellness Quiz
Women Start Here Men Start Here
Feeling Better Starts with a Simple Blood Test.
Regain energy, muscle strength and a greater ability to lose weight.
Increase mental clarity and feel younger and happier again.
Experience an increased quality of life while preventing age-related illness.
It's Amazing Something So Small Can Make a HUGE Difference in Your Life.
Regain energy, muscle strength and greater ability to lose weight.
Increase mental clarity.
Feel younger and happier again.
Increase quality of life while preventing age-related illness
---
Common Symptoms of Hormone Imbalance
Difficulty Sleeping at Night
Lack of Energy and Fatigue During the Day
Reduced Mental Focus and Memory
Moody, Anxious or Depressed
Weight Gain Including Increased Fat Around Mid-Section
Inability to Lose Weight Regardless of Healthy Diet and Exercise
Decreased Muscle Strength
Muscle and/or Joint Pain
Reduced Sexual Desire and Performance